Ocean Creek South Tower-- Oceanfront North Myrtle Beach Condos by Elliott Beach Rentals
Families love the Windy Hill section of North Myrtle Beach, South Carolina and if you are looking for a vacation rental that will accommodate families, then check out Ocean Creek South Tower resort. There is a two-bedroom North Myrtle Beach vacation condominium that can sleep up to six people! A full kitchen with a stove, refrigerator, dishwasher, and microwave offers plenty of room for several people to prepare a meal at one time. And the dining area encourages families to gather for a fun card game or an occasional dinner together. Leave open the sliding glass doors in the living room and you are sure to hear the crashing waves, a constant reminder that you are indeed in North Myrtle Beach, South Carolina.
An ocean view North Myrtle Beach vacation at Ocean Creek South Tower includes all the fun you can create playing on the white, sandy beaches, in addition to a beautiful oceanfront swimming pool. With an oceanfront lawn, beach volleyball, a playground, tennis, and a fantastic sun deck with an outdoor swimming pool that turns into an indoor swimming pool, you are likely to spend as much time at Ocean Creek South Tower resort as you do touring the North Myrtle Beach vacation area and visiting the popular South Carolina attractions. Spacious floor plans, immaculate decor, and coastal ambiance give new meaning to beauty at the beach. Be sure to save some time during your vacation to play a couple rounds of golf at some of the popular North Myrtle Beach golf courses. With about 100 from which you can choose, you are unlikely to experience a shortage of tee times as you try to improve your golf game.
Work in a ride on a Myrtle Beach roller coaster and water slide while you are in town. And there are numerous miniature golf courses that often stay open late into the night so your family can play putt-putt golf beneath the sun or moon. Dining opportunities are everywhere near this resort. North Myrtle Beach, SC has so many restaurants that a family can eat at a different restaurant for breakfast, lunch, and dinner, every day for a year and never eat at the same place twice. Famous for our seafood, it is easy to find oysters, shrimps, and crab legs on a menu near Ocean Creek South Tower North Myrtle Beach resort.
Property Location
Location: Oceanfront
Area: Windy Hill
10600 North Kings Highway
888-669-7853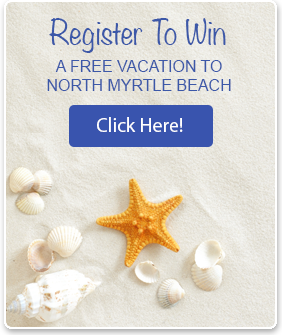 Disclaimer
Elliott Beach Rentals is not affiliated with onsite management or the HOA of this complex.